Pivoting in a Pandemic: Melissa shares the true value of Brewpoint Craft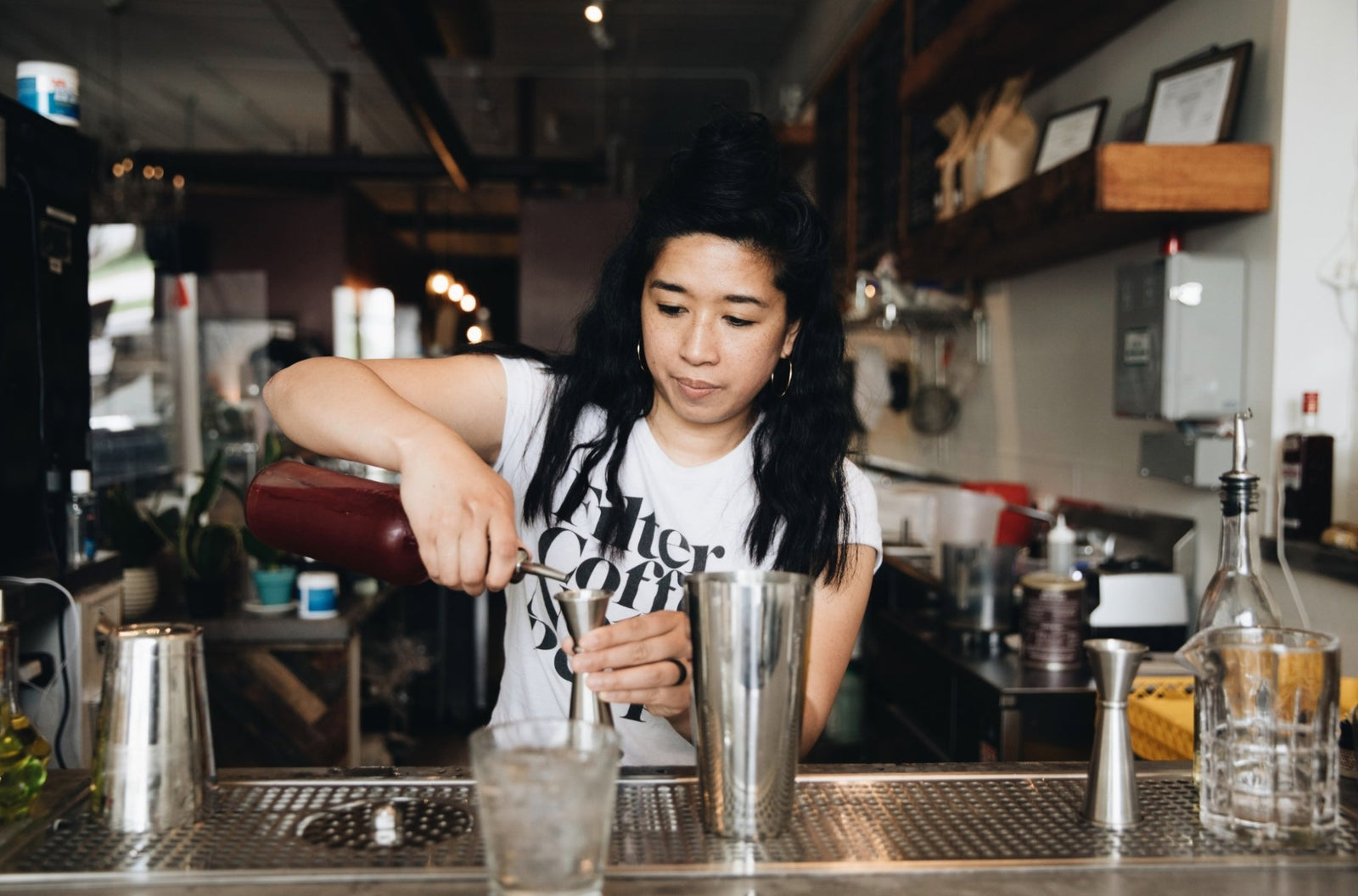 As refreshing as sipping a margarita in the summer breeze sounds, you may have been wondering why a coffee business decided to start serving cocktails and charcuterie? The answer to how Brewpoint's newest brand, Brewpoint Craft, is a reinforcement of the company's values may surprise you.
The pandemic left Brewpoint and most other small businesses in a rut.  It was relentless and demanded the hard questions be asked. How can we continue to show up for our team and our community? How can we uphold meaningful values, much less, survive as a business? 
If you're familiar with the Brewpoint brand, you know that Brewpoint is a company on a mission to build a better world through their platform. Brewpoint is committed to showing up intentionally in its communities and to bringing coffee — a beverage shared by friends, family and neighbors alike — into these communities. 
The vision of building a better world around us also means a committed investment to the world created within Brewpoint, and to everything it touches. Most prominently, the Brewpoint team, our customers, and coffee farmers. 
Melissa Villanueva, CEO and Founder of Brewpoint, explains how the struggles of the pandemic begged for compromise in these areas and how Brewpoint was able to expand its mission instead of compromising its values. 
Why did you decide to launch a new brand called Brewpoint Craft?
MV: "With the pandemic, I think a lot of us were pressed to think about ways to reinvent the wheel. The truth is, a lot about the specialty coffee industry needs to be reinvented. I think a way to strengthen the industry is to diversify our offerings. Adding specialty cocktails and charcuterie to our spaces was a move born both out of innovation and out of necessity." 
What do you hope Craft will accomplish for the Brewpoint ecosystem?
MV: "As the owner of Brewpoint, there is one goal I have: to collaboratively create an ecosystem that showcases our values in a sustainable way. Due to the low price of specialty coffee to the consumer, it is incredibly difficult to make sure that everyone gets their fair cut. Let me break it down as best I can: 
The average cost for a coffee farmer to make 1lb of specialty green coffee is at least $2. 
The commodity cost for coffee in the U.S. market is about $1. 
Fair trade coffee standards ensure that the farmer makes at least $1.40 (which is still less than what it costs to make specialty coffee). 
Specialty coffee is only getting more expensive with the effects of the pandemic and global warming. It is important that we are directly working with farmers to pay more than it costs them to farm; otherwise, more and more farmers will change out their coffee trees with something more sustainable (makes sense, right?). 
To sum it all up: specialty coffee is not sustainable due to the way it is currently priced. Farmers are more often than not selling the coffee for less than it costs them to farm it. 

The other side is that our staff deserves liveable wages. They deserve healthcare. They deserve benefits. But how do we achieve that when specialty coffee isn't priced at what it is worth? If we think about it, specialty wine and beer have such a range we are willing to pay on the consumer side. We can pay $5 for an average glass of wine or we may pay $500 for an amazing glass of wine, but with specialty coffee, the range is $2-$5 for a black cup. 
All that it is to say, cocktails and charcuterie add a way for us to diversify our margins and not compromise on the goals we have to pay our team AND our farmers well, so we can keep our business thriving for the long haul." 
What do you hope Brewpoint craft will accomplish for the community?
MV: "Our hope has always been to create authentic community spaces through our business. Now that we may be shifting out of the pandemic, I know that person-to-person connections in spaces like coffee shops are vital to our mental and emotional well-being. 
Brewpoint Craft allows us to be a space that gives more options for our community to gather. It's not just coffee to wake you up in the morning, but a cocktail for a date night or a shared charcuterie board to keep the munchies at bay. Adding cocktails and charcuterie gives us the ability to reimagine the hospitality industry for the long haul. 
We can create a space where our community can connect morning, noon, and night led by a thoughtful team that has emotional and mental bandwidth to give heartfelt service because they feel taken care of, not just by the company but the larger community as well. I should be clear, we are not perfectly there yet in terms of creating an ecosystem that takes care of everyone to the level that we want...but we have a plan to get there."
What do you mean when you say "reimagine hospitality"? 
MV: "That's a big question. Right now, I will say that the larger food and beverage industry is struggling. We have more business, but less staff. We have shortages from every supplier. We have integrated more technology, but don't yet have safeguards, or control, when things go haywire. 
AND at the same time, we offer spaces for human connection that haven't been enjoyed for over a year. There's a lot of pressure to make sure things go right, so our community can savor an experience with the people they love. 
When I reimagine hospitality, I imagine how we as a community can come together to rebuild places like ours in a way that reminds everyone of our shared humanity through our interactions — both customers and team members alike. I imagine a place where people feel seen and taken care of, while enjoying a product that helps keep the business going for the long haul. Every interaction I have with my team and my community continues to shape this vision, but that is what I imagine when I think about what our industry can provide for our communities."
Does all of this mean that putting a couple of margs back at Brewpoint Craft is going to build a better world afterall? Kind of. Will it make a meaningful impact on the lives of the Brewpoint staff, coffee farmers and, hopefully, the industry at large? Most definitely.
Going forward, you can expect to hear more from Melissa and Brewpoint about the exploration of this reimagined vision for hospitality. Be sure to follow @brewpointcoffee and @brewpointcraft on Instagram for blog and business updates.
---